PMC Isochem's technology offer includes versatile and performing distillation cGMP capabilities. Both batch distillation and wiped film distillation units are designed for the distillation of high boiling point products including corrosive products.​
Your benefits from PMC Isochem's offer​​​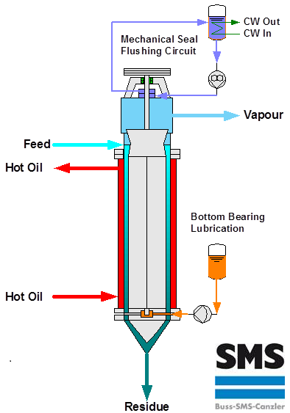 Technology expertise ​
Both cGMP batch and continuous wiped film distillation technologies allow to design the right solution to the need​
High Purity cGMP intermediates
Synergy with cGMP phosgenation for production of cGMP High Purity phosgene derivatives​​
Custom manufacturing ​
cGMP efficient purification by distillation 
For non corrosive products:
Batch stainless steel distillation units 650 L, 1800 L, up to 200°C and under 1 mbar, up to 15 theoretical plates​
For corrosive products:

Glass-lined batch distillation units 100 L, 400 L and 1800 L, up to 200°C and 1 mbar, up to 15 theoretical
Hastelloy C22 wiped film distillation unit 0.3 m2, up to 200°C and 1 mbar (~ 600 kg/day)​​, see figure
First class R&D ​
Distillation technology is fully integrated in our R&D capability for both rapid evaluation and process development for scale-up of distillation processes.  ​​